This lady needs no introduction, but here's a little bit about this fashionista.
Alissa Wilson is editor and chief of Stylish Curves!  Stylish Curves is a fashion and lifestyle blog that bridges the gap between straight and plus sizes by showing plus size curvy women that they can dress just a fabulous as straight size women do. The blog aims to give the curvy plus size woman a different perspective on fashion by showing them how to shop within and outside the plus size realm to get celebrity looks and to create their own personal style. We live in a world that wants plus size women to be unhappy with their bodies and Stylish Curves believes that every woman should learn to appreciate and love their bodies no matter their size
About
Editor & Chief: Alissa Wilson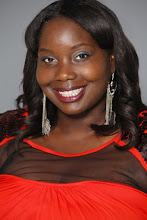 Alissa Wilson is a native of Brooklyn, NY. She holds a Bachelors of Science degree in Communications with a minor in Journalism from Nyack College.  Alissa always dreamed of a career as a fashion writer and after a rough start breaking into the fashion industry, she decided to take the route of becoming a fashion blogger. As a plus size woman, Alissa knows how hard it is for women over a size 14 to find stylish fashionable clothing. She started Stylish Curves to serve as a shopping resource for plus size women to find out where to get the latest trends and celebrity styles in their size.  Alissa brings eight years of retail experience and seven years of working in finance to the blogging industry.
Here's my interview with Alissa!
What would you describe your roll in the fashion industry?
I am a fashion blogger that focuses on plus size fashion and shopping. My blog offers the latest trends, designers, and celebrity fashion all geared towards plus size women.
When did you first start to take an interest in fashion?
I started taking interest in fashion in Jr. High School. While growing up,  it was all about name brands. People would  wear a brand just because it was popular. Instead of wearing what was popular I became interested in who designers and certain brands were. I would research them and educate myself on fabrics and style.
Who are some of your favorite fashion icons?
I wouldn't say that I have Icons but I have fashion era's I love. I am obsessed with 70's fashion. Pam Grier and Diane Carroll were some smoking hot ladies in the 70's. I also was a fan of Bianca Jagger and they way she would look sexy and chic in menswear.
Where do you find inspiration?
I draw inspiration from magazines and everyday people that I come across. I could read something or see someone and instantly be inspired. Sometimes I take quiet time in my day just to observe my surroundings. That always leaves me inspired!
When shopping, what are some key things you assess before you make a purchase?
It's important for me to look for quality. Regardless of your budget you should buy things that are the best quality that YOUR money can buy. I also look at how something fits me. As a plus size woman I like my clothes to fit properly and not be too tight or too big. So before I put my money down on that counter the fit has to be good and if something looks great and is too big I determine if it is worth it to take it to the tailor. Last, I try not pay full price for things. In this economy, stores have sale turnarounds within 2 weeks so if a piece has a lot of sizes left then I will wait until it goes on sale to get it.
How do you see the plus size industry booming in the fashion industry today?
I think the plus size industry has made remarkable strides in the fashion industry. I feel like people are finally paying attention to us. I want to give some of that credit to plus models, plus magazines, and most definitely plus size bloggers. There is still a long way to go but with events like Full Figured Fashion Week and magazines like Plus Model Mag pushing the envelope we will begin to see more great things happen in the industry.
What are your favorite fashion trends?
My favorite trends right now is the black and white trend, mint, and floral prints. I am completely obsessed with everything that is black and white and mint is such a great color for my complexion. I think for the spring and summer that is all I am going to wear.
Have been featured in other publications?
Yes, it was an honor to be featured in the New York Times style section and to be asked to appear on Good Morning America to talk about plus size fashion and why we are ignored.
Where do you do you see plus size fashion in 30 years from now?
I am hoping to see more brick & mortar stores, countless plus size designers, and to see the main stream fashion industry incorporate us in more NYFW shows. I think plus size fashion will be forever evolving.
Where are some of favorite places to shop?
I am a department store kind of girl. I love Bloomingdale's and Lord & Taylor to purchase my designer pieces, however, I also love me some ASOS and Simply Be for fun trendy looks at affordable prices. These are the main places I shop.
Lastly,
Do you have any last words you want to leave for curvy girls everywhere?
To all my curvy, plus size women out there I want you to know that you should never ever allow anyone to dictate to you how you should feel about your body. Be honest with yourself about how you feel when you look in the mirror. If you don't like what you see, change it and if you love what you see embrace it. Always be honest and true to yourself never try to be like anyone else. Last but not least make sure you're speaking words of encouragement to each other and not tearing each other down.
There you have it! I love her words of encouragement to us ladies!!! PLEASE CHECK HER OUT!